Assembly & Service of Recumbents
I've bought a Recumbent – what's next?
If you are in the South East Queensland area, great, we can help with assembly and adjustment if you like.

Bacchetta bikes are shipped in a combination of two boxes. One has the frame, fork, and a small parts box, and the other contains the wheels, seat, handle bar assembly. The handle bar setup is fully assembled with shifters, levers, cables, and wrapped with handle bar tape.

GreenSpeed trikes and Performer bikes and trikes come in one box with a smaller parts box enclosed. There is minimal pre-assembly.

We recommend taking the bike or trike to a bike shop for assembly, however it is not beyond the capability of a competent home mechanic.
I've bought a frame kit – what next!
Congratulations – a frame kit is a great way to build your special bike, even better if you have a selection of parts already waiting for a project. Be aware though, building a recumbent from a frame set is likely to be more challenging than assembling a regular bike.

There are some things that just need more thought. It's worth it though, the effort to make it "just so" is rewarding in the end. Here is an example of what to expect when buying a "frame only" setup (the CHR is one of the harder builds around).
Bacchetta
Special Installation Instructions:
B-Pivot Set Up Instructions
Euro-Mesh Seat Mesh Installation Bacchetta Fine Tune (BFT) Installation – The BFT is designed to add proper load to a headset when no star nut type application is available. This becomes necessary on a Bacchetta bicycle (other than the Aero) if you plan to remove the adjustable stem from your bike.
More Tech & Install docs from Bacchetta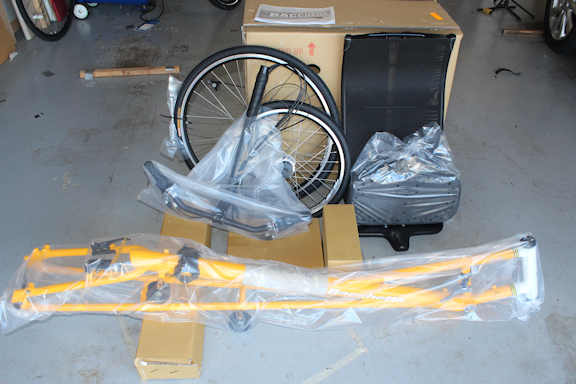 BELLA - Everything unpacked!
Lots of little Bella bits.
Performer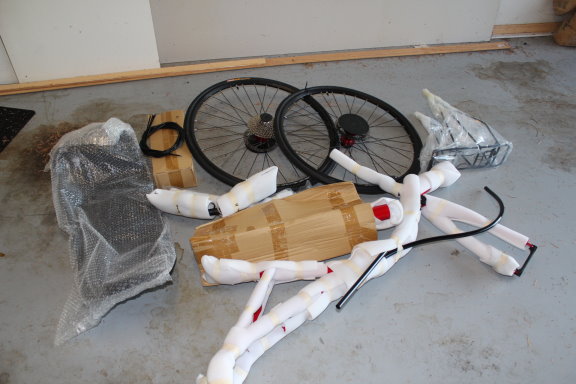 Performer HighRacer as it came out of its box.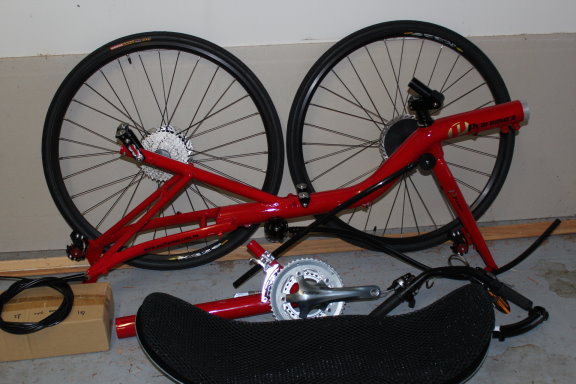 Performer HighRacer unwrapped. The small box contains all the hardware and parts.