Pelso Brevet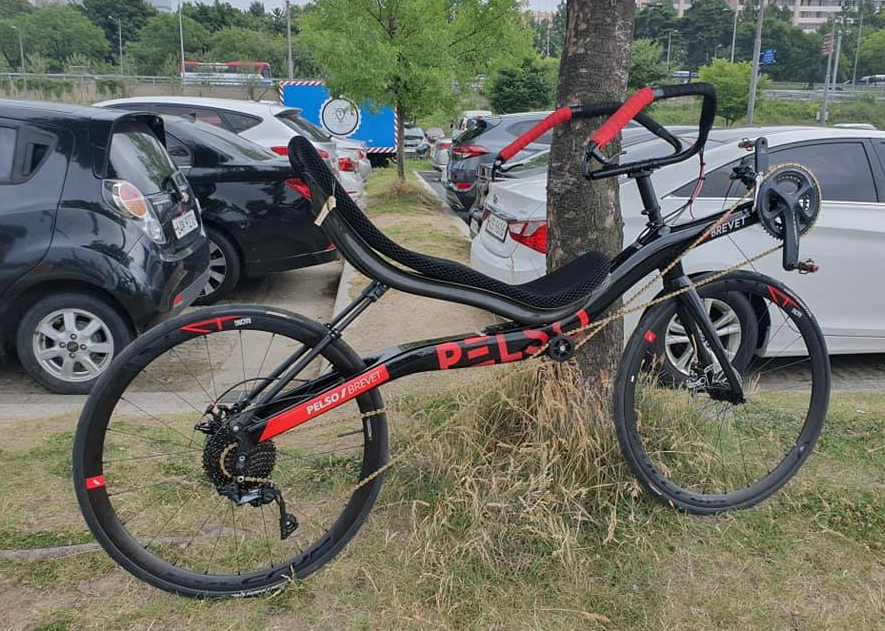 The latest Euro Carbon goodness in a high racer.
Available from Pelso in Hungary, or from Bacchetta in the USA, the two versions share the main frame but have slightly different seat/fork/handlebar arrangements.
Fast, long distance riding in exceptional comfort.
The Pelso Brevet.
"The pelso brevet rates highly as a general do all machine with comfort its major standout ... for me and I would think many others, the claimed magic carpet ride is 100% correct. Couple that with it's versatility, wider tyre options and it's a general winner overall amongst my bent experience."
Happy owner of the first Pelso in Australia.
August 2019
Pelso Brevet Framesets
Build your own super cruiser from a Frameset, with your choice of running gear and tyres up to 45mm wide (with Pelso CF Tour Disc fork). The Bacchetta spec allows choices from the standard Baccheta range of seat, handle bar and fork options.
PELSO BREVET EUROPEAN FRAMESET
Full details from: pelsobrevet.com
Frameset includes: frame, fork, handlebar, riser, stem, riser clamps, seat, seat adaptor plate, seat stays, derailleur hanger, headset, idlers, dropout shims for 130mm rear wheels.
FRAME:

Pelso Brevet CF Disc (IS2000)

BB:

BSA / 68mm width

HEADSET:

1 1/2" -1 1/8" - tapered

FORK:

Pelso Brevet CF Road Disc
(Flat-mount | 28mm tyre clearance)
Pelso Brevet CF Tour Disc
(Post-mount | 45mm tyre clearance)

MAX TIRE CLEARANCE:

45mm

Pelso Brevet CF

SEAT PAD:

Pelso Brevet Air-Through seat pad

HANDLEBARS:

Pelso Brevet AL

DROPOUTS:

QR 135mm rear / QR 100mm front

IDLERS:

Double idler set with sealed bearing
Availability: Ex Hungary.
PRICE:From AU$5,600 incl GST and international freight (subject to exchange rate variation).
PELSO BREVET/BACCHETTA FRAME KIT
Full details from: bacchettabikes.com/
Bacchetta Framekit Includes: Frame, Riser and riser clamp (options), Handlebar (options), Seat clamp, Seat stays and pull pins (options) and Idler assembly.

FRAME:

Pelso Brevet CF Disc (IS2000)

HANDLEBARS:

Wide, Narrow, Narrow Extended Reach
(provides 1" extra reach)

IDLERS:

Bacchetta over/under double idler assembly

LOWER SEAT STAYS:

9", 11", 13"

RISER:

Short, Tall, Two-Piece Adjustable
(choice of short, medium or long throw riser.
Adjustable system for 1 1/8" head tubes only)
NOT Included but available to purchase through Bacchetta: Fork, seat, headset, B-Pivot or BFT (headset adjuster), drive train, wheels or braking components.
Availability: Ex USA.
PRICE:From AU$5,800 incl GST and international freight (subject to exchange rate variation).
(Typical fork/seat/B-pivot/BFT options.)
Complete Bike is also available to purchase from Bacchetta.
Prices are Australian dollar and subject to change without notice. AUD prices include GST.
Postage and shipping additional at cost. Terms & Conditions. Enquire for full details.