(Mrs DT Recumbents dips her toe into the world of recumbent cycle commuting)
It's been nearly 35 years since I was a cycling commuter.
Back then I was an active teenager whose only reliable means of transport was the bike. I rode an inherited, fixed gear Malvern Star upright lady's bike. As soon as I got a car, the bike pretty much got the flick.
Over the intervening years, hubby got me onto its successor, a Giant MTB, but I was never comfortable riding it. My neck and wrists hurt, my butt went numb, and when a kamikaze Magpie gave me such a fright that I fell off, that was pretty-much the end of my cycling, except for brief forays with my young kids.
Spring 2019 and I'm still quite active and have just hit the half century. Running and walking have been my primary choice in exercise for ages, but I'm about to go back to my summer job, 8km away, as a School Swimming Teacher. I won't get time to run before work – I am NOT an early-morning person! How to keep fit????
The Trike
Since we started DT Recumbents 2 years ago, I have tried a few of the recumbent bikes and trikes that have come through our business. While I can ride the Bacchetta Giro bike (the Bella didn't adjust enough for my short legs), it wasn't quite me. I took the Performer Trike E and JC20 for a few longer spins, but they weren't quite right either.
And then a friend left an older Greenspeed GT3 trike with us. Small size frame, 16" wheels, fixed seat and no head rest.
It was wonderful!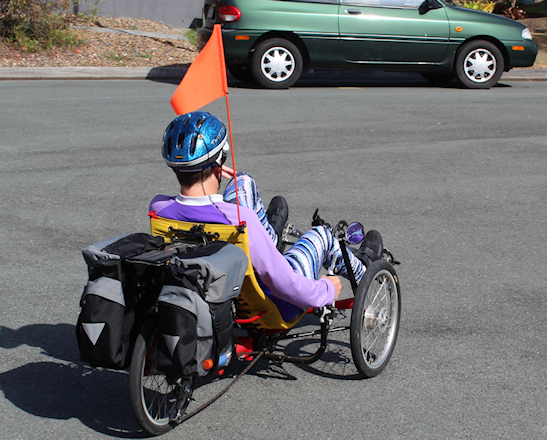 Sporty looks, very efficient and agile performance and best of all, very comfortable to ride. A bit of playing around with different length cranks and changing to a 2 speed front crank-set and I am now on the most comfortable cycle I have ever ridden. I will now voluntarily head off on a ride.
Getting Moving
The final block to making riding to work feasible for me, fell at just the right time. A new back road opened, meaning I could avoid the busy major road with unfriendly cycling allowances, and the major hill associated with it.
I did a weekend test run to the school pool and back. 25 mins each way! And on my sporty little trike I was able to do the 50 min/16 km test loop without being a total wreck at the end. This would work!!
I got myself organised. I made a couple of long sleeve cycle jerseys to go with my tights (sun protection for riding home at midday, late spring in sunny QLD); stole hubby's old pannier bags; found a pair of cycle shoes, and I was all set to go.
The Trip
I thoroughly enjoyed the cycle commute (except for 1 day with 40-60kph head winds on the way home, and 1 idiot driver who decided that giving way didn't apply to cycles.). The majority of my trip was on either cycle lanes or footpath, with a couple of back roads here and there. Moreton Bay Regional Council have been slowly improving the cycle ways around Redcliffe, particularly near the waterfront.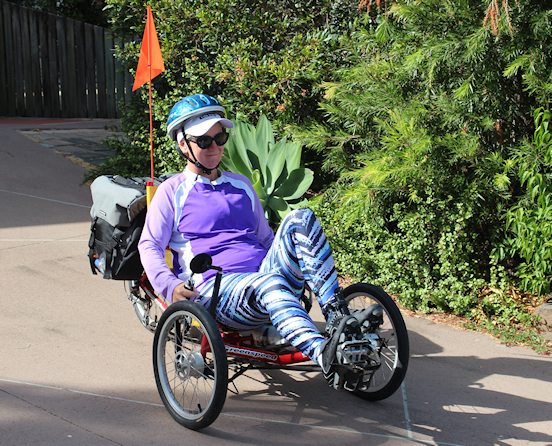 After 6 weeks of riding 3-4 days/week, my legs were no longer shaking at the end of the steep hill leading up to the school. I had increased my average speed 1-2 kph, and did the whole term on less than 1 tank of petrol (vs filling up every 9 days or so).
The trike behaved beautifully. Uphill was sometimes a bit of a slog, but downhill I got up to 48 kph (I was never game to go that fast on an upright) and on the flats I could cruise at 25-27 kph. Not bad for a 50 year old woman who had never been an avid cyclist.
Now the challenge is to keep that cycling fitness, which I discovered is really different to running/jogging fitness – those triathletes are really fit!!
Maybe a weekly trip to the café near school for a cuppa? A regular run along the Kippa Ring to Petrie rail-trail?
I'll think of some excuse.