Christmas 2020
The team at DT Recumbents wish you all a Safe and Merry Christmas, and thanks you for your support over the last 12 months.
We will be having a Christmas break, so we will be closed from Christmas Eve 24th December, re-opening Monday 4th January 2021. We will be monitoring emails, so if you have a major catastrophe, send us a message and we will see what we can do to help!
GreenSpeed Update
In March we saw the sale of GreenSpeed Australia to WhizWheelz USA, who packed up all the GreenSpeed stock and shipped it to America. We went from "yes, we can have a GT20 ready to go for you next week" to "We don't know if new GreenSpeed Trikes will be available to Australia in the foreseeable future."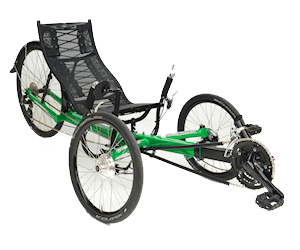 In October, Victorian company Trisled was announced as the new Australian distributor for GreenSpeed. Trisled have been doing their best to secure an Australian share of GreenSpeed Trikes in production at the moment.
So far, we have seen a quantity of GT20's (all sold now) and Magnum BW's (1 left) and are expecting some GT26's very early in the new year. Other models including Magnums and Anura's are anticipated around mid-year.
We'll keep you posted!
COVID Impact on the Cycling World
COVID has had a massive impact on the cycling world. As our gyms and fitness classes closed under lockdown, cycling took over as a COVID-Safe form of exercise that we suddenly had the time to explore, often with our families. The demand for all types of cycles soared, and is still high. As the cycle manufacturing world struggles to catch up with the upright (upwrong?) and growing eBike demand, the smaller Recumbent market is experiencing similar issues.
It is going to take a while for the industry to recover and catch up, so 2021 will still see lots of ups-and-downs regarding availability of bikes, trikes and components.
Electric Assist
On a more positive note, Electric Assist kits and batteries have recovered from the COVID-induced shortage, and are more readily available. We can supply and fit your Mid Drive or Rear Wheel Hub drive. See our E-Assist web page for more info on which type will best suit your needs, and give us a call if you have any more questions.
Coming Soon….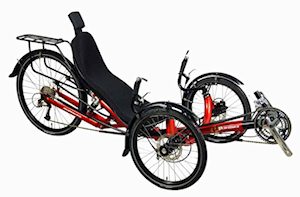 As well as our GreenSpeed GT26's, we have a Performer JC-26X – Suspension trike due to arrive in early January to add to our demonstrator range.
Our demonstrator Trikes include:
GreenSpeed GT20, and a GT20 with an Electric Assist Mid Drive motor;
GreenSpeed: Magnum BW; Aero; GT26 (mid Jan 21);
Performer JC20, and JC26X-Suspension (early Jan 21);
Rehatri Delta with USS.
(See our Recumbent Trike Web Page for more details.)
Our Demonstrator Bikes include:
Bacchetta:  Giro A20 & Giro A26
Performer:  Folding Front Wheel Drive
(See our Recumbent Bike Web Page for more details.)
And of course our personal bikes are here for discussion… Challenge Mistral, Performer 700C Highracer, and M5 Carbon High Racer.
Remember, the more you ride, the more 

Christmas Treats

 you can eat....