One of the more challenging installations I have done recently, has been the addition of a Bafang electric assist (E-assist) kit onto a Greenspeed Anura IGH. This posed a few issues:
the Bafang mid-drive and the chain gobbler – used for chain tensioning – are mutually exclusive,
the Anura steering rod passes exactly where the motor fits,
and the standard question of where to fit the display and controller!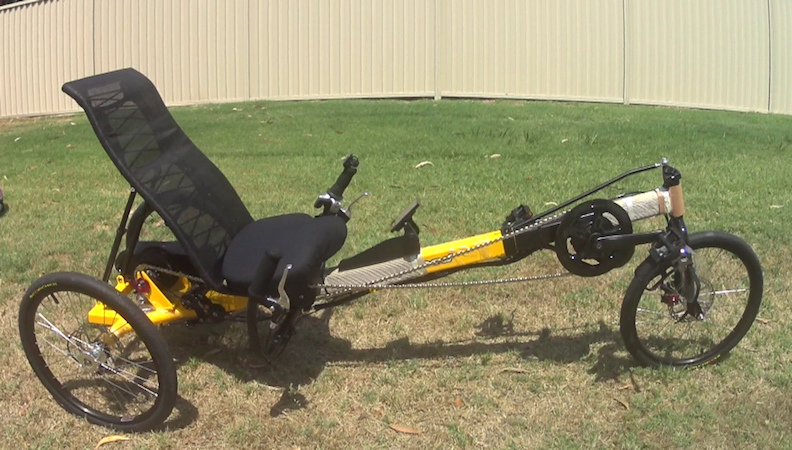 If you have not been involved in fitting an e-assist kit to a recumbent, it's easy to forget that generic kits are arranged for the standard upright bicycle, and the parts and wiring, in the main, do not just "bolt on" to a recumbent!
Back to the Anura then. Greenspeeds' Anura is a fine trike – much underrated in my view – offering a convenient seat height, easy on and off access, great steering, and quite surprising performance too. Standard equipment for the IGH version is a Nuvinci 380 CVT internal gear hub and Schlumpf speed drive crank-set.
The challenges for the E-Anura are:
Keeping the Nuvinci hub in the right place;
Chain management (tension);
Steering; and
Mounting the rest of the stuff (battery, display, controller etc)
In order then…
The Nuvinci mounts in a slotted bracket that allows the hub to be moved to tension the secondary chain drive to the rear axle, and relies on the axle nuts to be very tight to stop it slipping. This has proved problematic for some installations and riders, I added positive location devices to stop the hub axle slipping under high load. (That's the purple snail cam adjusters in the photo.)
Chain tensioning on the IGH is essentially by the sliding of the boom used to set the frame for the riders leg length. Workable but not ideal. I re-routed the chain to use an over/under idler, and created a chain tensioner to look after the excess chain.
Steering was the one thing that had to be right. While you can fit the steering rod between the crank arms and the motor, the rod rubs the motor, bends, and restricts the steering lock available to the rider. My solution adds a new steering arm to the fork, and runs the steering rod direct from the handlebars across the top of the motor to the fork. Result: play free steering with full lock available left and right!
The rest of the "stuff" is more straight forward: battery mounted to the frame alongside the left rear wheel; display on a bracket on the main frame with the keypad separated and mounted on the handlebar end.
All in all, an e-assist system that preserves the trikes' original handling. In the words of the owners of this trike:
"…runs like a dream, Grant has been out for a few rides now and is beaming every time he rides it…".
Nothing beats that!
Links: